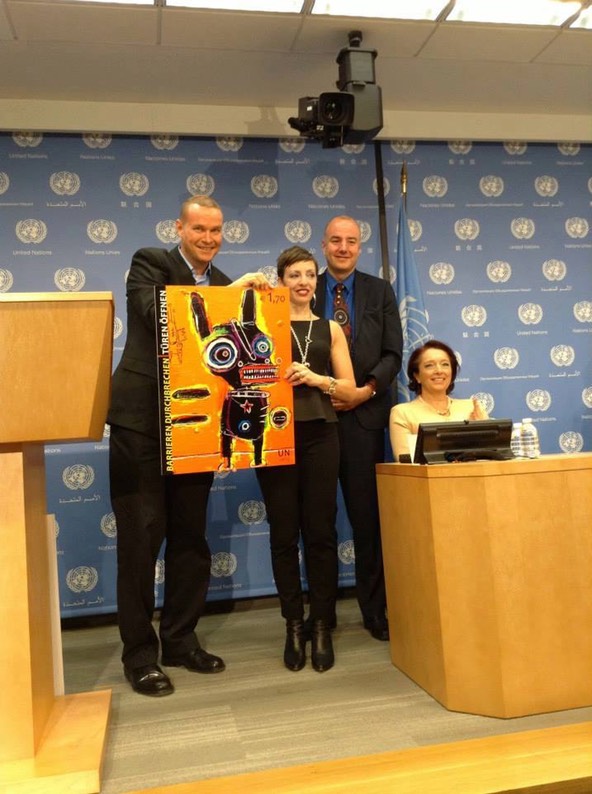 Breaking Barriers Theme Featured on UN Postage:
The United Nations Postal Administration (UNPA) released six new postage stamps on Friday, 20 September 2013, focusing on the talents of artists with disabilities. The stamps were issued in conjunction with the United Nations High Level Meeting of the General Assembly on disability and development on 23 September in New York City.
The stamp images, titled Break Barriers, Open Doors, include self portraits by artists Chuck Close and Josephine King, paintings by Matt Sesow and Sargy Mann, a group photograph of the China Disabled People's Performing Art Troupe, and an individual photograph by Pete Eckert.  
"This project led us to an incredible pool of talented artists who provided stamp images that send powerful messages of achievement," noted UNPA Creative Director, Rorie Katz. "Their focus on creating world-class art is an inspiration to everyone. We are pleased to pay tribute to their accomplishments through our postage stamps."
The stamps, issued in US dollars, Swiss francs and Euros, were sold at United Nations stamp shops in New York, Geneva and Vienna. 
Stamp Specifications:
Designer: Rorie Katz
Format: 30 mm x 40 mm
Stamps per sheet: 20
Perforation: 14
Printing: UAB Garsu Pasaulis (Lithuania)
Process: Offset lithography
Quantity: 129,500 stamps (6,475 sheets)
The Artist: Matt Sesow (U.S.A.) – Dive Bomb
VIDEO OF THE REVEALING CEREMONY AND PRESS CONFERENCE (click the 'play' icon):
Sheets of stamps and other configurations were  available online directly from the UN Postal Administration and at UN offices worldwide (SOLD OUT after a printing of 129,500).  NOW AVAILABLE, framed single stamps directly from the artist using the form on this webpage.
Visit the UN Postal Administration at:  UNstamps.UN.org