---
this page:
PAX ATTAX show with Chris Dacre and Matt Sesow
Old Dominion University
Norfolk, VA: July - August 2007
---
---
---
Two Brave Young Men Say it with Art
By Hannah Serrano
Lining the walls of the ODU Gallery are the intensely colored works of Matt Sesow and Chris Dacre, two young men whose sardonic responses to the state of American politics are expressed in their powerful works. Both wore jeans, cowboy shirts and easy smiles to the opening of their exhibition. It was clear they were just two Midwestern guys, making some art and talking about issues. Neither carried the superiority or sense of irony that some young artists are wont to possess. In fact, they were each unassuming, humble and real. That combination of open, straightforward, almost na•ve attitudes about art, and the rawness and edginess conveyed in the pieces, is disarming.
Sesow, who hails from rural Nebraska and admits that he initially became interested in art to impress a girl, lost one of his arms when he was struck by an airplane propeller as a child. The trauma of that event is expressed in his work again and again, with shackled and amputated figures representing not only his own trials but the ideas of helplessness, pain, and struggle—as seen in the two large-scale works, Collateral Damage (Living Hell) and HeÕs Got the Whole World in His Hands (With Entangled Ants). The serial quality and color in SesowÕs other, smaller-scale paintings are admittedly Warhol-inspired. And his project, 31 Days in July, for which he began a unique painting each day in July of 2003 in response to articles on the front page of the Washington Post, is reminiscent of the contemporary Japanese artist On Kawara, who is similarly activated by newspapers and the passage of time. SesowÕs clearest artistic forebear, however, seems to be the German Expressionist Ernst Ludwig Kirchner. Kirchner, who depicted himself in his art with an amputated hand, also created energized, intense art that responded to war (in his case, WWII) and raw human emotion.
Dacre, who was born in a small Ohio farming community and later served in the U.S. military, presents a 32 foot by 12 foot installation piece, entitled War is Fun. The felt collage creates a vivid scene of doll-like paratroopers, tanks, helicopters, and imaginary characters embroiled in battle. If you can imagine a brightly colored Guernica populated by cartoonish, Nintendo-like figures, you wouldnÕt be far off. The childlike quality inherent in the work is the very thing that makes DacreÕs political statement so potent. Though not a conscious decision on the artistÕs part, DacreÕs use of felt material, political activist agenda and military background suggest an inheritance from the artist Joseph Beuys, a German artist of the Ô60s. Felt became a key material for Beuys after he was supposedly revived to health by tribesmen, who enveloped him in animal fat and felt, after being shot down as a pilot in World War II.
Here they are—two young Americans, a modern-day Kirchner and Beuys, bringing a wholly authentic, highly charged and highly intellectual approach to Outsider art. This is what exciting contemporary art is all about. ¥
---

Photos from opening reception (July 7) taken by Jerry S Altares: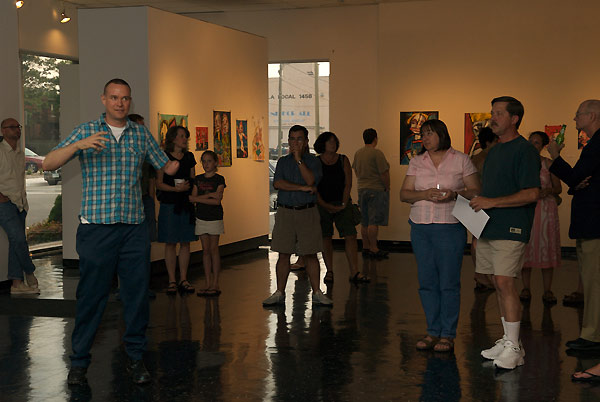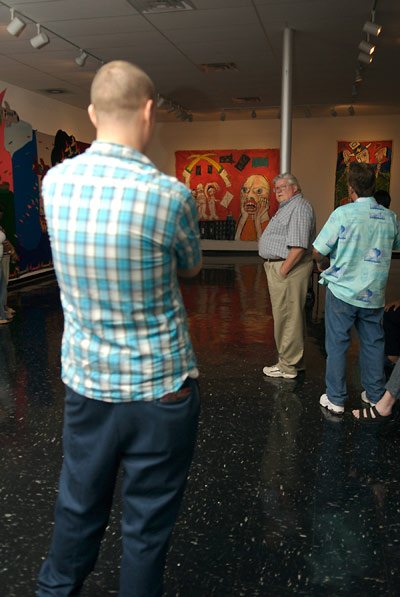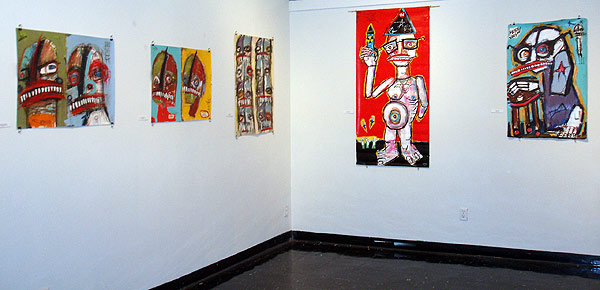 ---