Documentarian Leslye Abbey of Snowflake Video productions started documenting Matt Sesow's story and artwork in 2002 during an exhibition of his artwork at Hofstra University in New York.
In the film "Join Hands" Matt explains his childhood accident (being hit by the propeller of a landing airplane) which resulted in the amputation of his left hand. Interviews with his familly, collectors, and friends help tell the story of this unique American contemporary artist.
Interview with "Backstage Takoma":
JOIN HANDS: THE LIFE AND ART OF MATT SESOW
A close up 'inside' look at a world-class 'outsider' artist.
Matt Sesow was born in Omaha Nebraska on September 10, 1966 and is the second of three siblings. In 1974 at the age of 8, he was playing a game of 'spud' in an airfield near his home and was struck by a landing airplane. Matt's arm was severed by the propeller and reattached at the hospital. He lost his dominant left hand. And so his journey begins…
In 1994 he began painting inspired by his trauma and reflecting on the events of the times. Short films by Sesow were shown by the Washington Project for the Arts and were selected for the D.C. Psychtronic Film Society exhibition.
Matt paints and creates obsessively and has completed thousands of paintings. His work has been shown in numerous prestigious exhibitions and received many awards. He travels extensively across the U.S. and internationally for his shows and to paint.
TITLE SCREENS: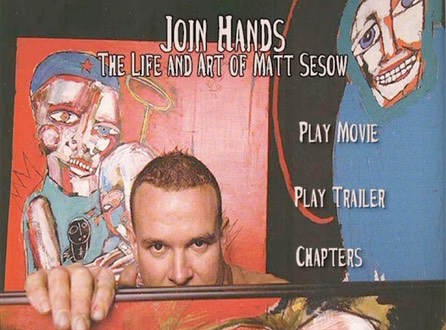 Trailer for "Join Hands":
MORE INFORMATION ON THE SHOW THAT LESLYE ABBEY STARTED FOLLOWING MATT AT HOFSTRA UNIVERSITY 2002:
Interview from 2007 on process, etc...
See ordering information for the DVD on Amazon.com by Clicking Here  
ARCHIVE:
visit NEW.SESOW.COM to see the latest Matt Sesow paintings: